Attractions at Himeji Central Park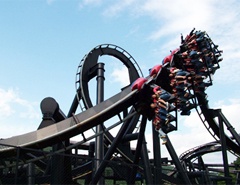 Diavlo

Japan's first high-speed inverted coaster!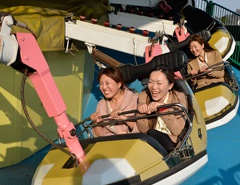 Flapper

Get on and ride the waves!♪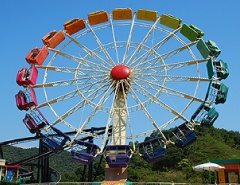 Helios

The spin monster has come! Can you endure his wrath?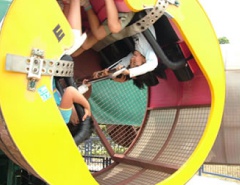 Crazy Bar

Once the barrel starts rocking, it never stops!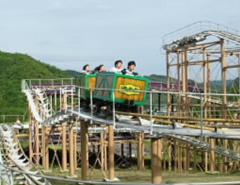 Labyrinth

Feel like Indiana Jones at every twist and turn!♪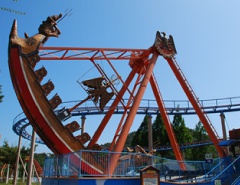 Great Poseidon

Plow through rough seas on a pirate ship!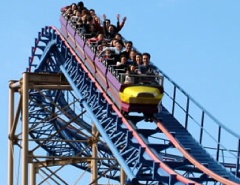 Jet  Coaster

A classic roller coaster for the little ones!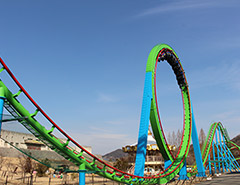 Hurricane

Loop-di-loops, corkscrews and 26 m dives inside the mountainous scenery!♪
Let's Go SL

Are you in for a ride around the lake on the Let's Go?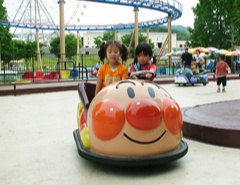 Battery Cars

These slow-moving cars are designed to look like popular cartoon characters that little kids love.☆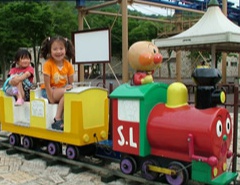 Let's Go Anpanman

Hop onboard the train for a fun ride with Anpanman as your conductor!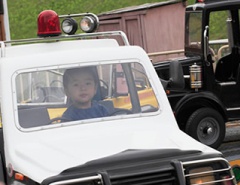 Convoy

Just for kids, this ride features 4 cute utility vehicles cruising through fields.☆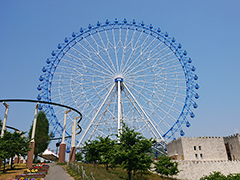 BIG8

An unbelievable 85 m tall!
You can look out across the whole park and the surrounding mountainous landscape.♪
Putt-Putt Golf

Who wouldn't enjoy a round of put-put golf amidst these magnificent surroundings?♪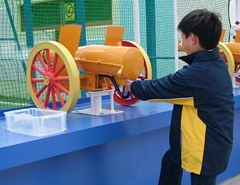 Bazooka

Aim and fire at monsters in the distance! The powerful boom echoed with every shot will make your blood pump!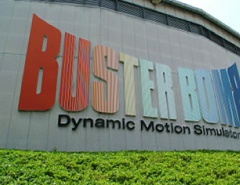 Buster Bomb

Wear 3D glasses to experience the powerful visuals!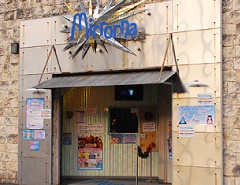 Psycho Labyrinth of Mirrorna

Explore the inner reaches of the mind while making your way through a labyrinth of mirrors and lights.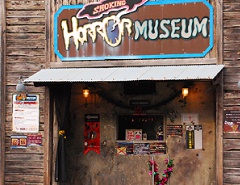 Shocking Horror Museum

Nothing but fright and shivers await you!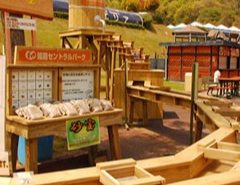 Treasure Hunter

Search for treasure with your friends and family!♪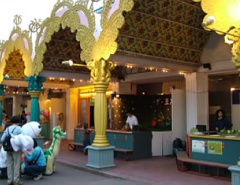 Carnival Corner

This carnival gallery features simple games of skill like throwing balls into buckets.♪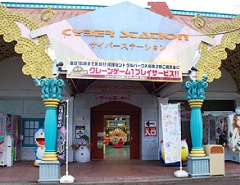 Cyber Station

This is the only game arcade in the park!
The Jungle

Romp with your reptilian friends in our No. 1 attraction!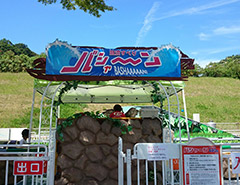 Super Splash

Introducing our new water slide attraction, "Super Splash"!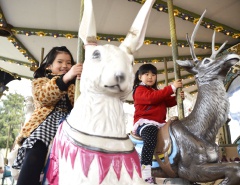 World's Largest Grand Carousel Pegasus

One of the largest merry-go-rounds in the world!
There are not only horses but rabbits and deer, as well!☆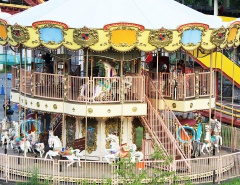 Pegasus (Merry-Go-Round)

This gorgeously ornate merry-go-round is 2-stories tall!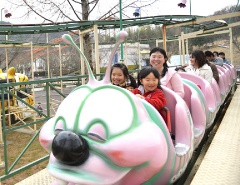 Imorinth

A popular roller coaster amongst little kids!☆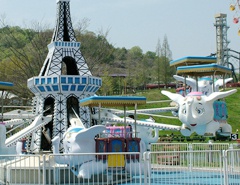 Pao Pao

Soar in the sky on a flying elephant! Its large ears serve as wings for taking you higher!
Sky Heli

You've got the go sign from the control tower, so off you go!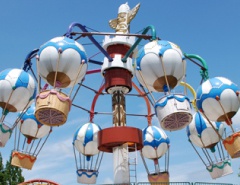 Albatross

Jump into a balloon and up you go.
You'll feel the wind as the ride rotates!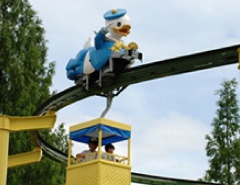 Ahirukantai

Hitch a ride from these cute ducklings for a stroll in the sky☆