Japan's first high-speed inverted coaster!
Diavlo
This ride all about the wind blowing against you and the sensation of being hurled about in space. With nothing in front of you or below your feet, the thrill is that you could be flung from your seat at any time!
If you want a better view, get a front row seat! If you want the most speed and centrifugal force, sit in the last row on the right side! In the back, the high G forces and fast speed whip you right out of your seat.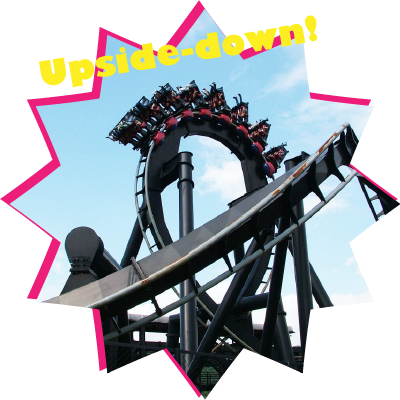 Loop-di-loops, corkscrews and 26 m dives inside the mountainous scenery!
Hurricane
You slowly make your way up the 30 m rise. The excitement grows at the top with the full panoramic view of the pools below. Then, suddenly the dive begins! No sooner than you take your first breath, you feel like you're being sucked out of your seat as you speed through 3 consecutive loops! If you look to the side, even the merry-go-round is upside-down.

An unbelievable 80 m tall!
BIG8
At 85 m in height and taking about 18 minutes to complete a full rotation, this Ferris Wheel was once in the Guinness Book of Records (still in the top 10 in Japan). In addition to the classic fun of riding a Ferris Wheel, Giant Peeter is a great way to acquaint yourself with Himeji Central Park by taking the park map up with you.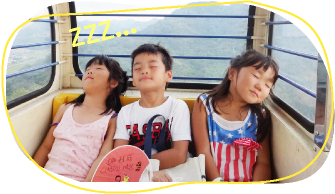 One of the largest merry-go-rounds in the world!
Grand Carousel Pegasus
One of the largest in the world! There are not only horses but rabbits and deer, as well! The carriages are spacious and spin around, which is more realistic than most merry-go-rounds and transports kids into a fairy tale.
Plow through rough seas on a pirate ship!
Great Poseidon
If you're looking for straight-up thrills, this is it! In fact, it is scarier than Jet Coaster. It mixes the centrifugal force of Free Fall and the acceleration of Jet Coaster, and leaves a stronger aftereffect than a roller coaster!
Kids can ride this jet coaster at 4 years of age! And, the track runs outside of the park! This "camelback coaster" is 1,073 m long and features ups and downs like a camel's hump.
A classic jet coaster for the little ones!
Jet Coaster

Soar in the sky on a flying elephant!
Pao Pao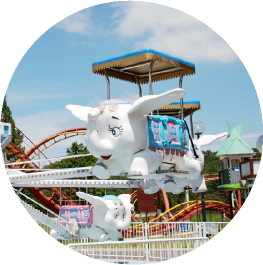 This slow-moving ride is great for families. The light yellow elephants are for some reason a popular choice amongst girls. Rumor is that the "sunlight makes its skin look beautiful!"
A popular roller coaster amongst little kids!
Imorinth
Little kids just love riding a caterpillar through a grassy labyrinth! Kids as young as 2 years-old can ride it with an adult, so for many, it is their first roller coaster!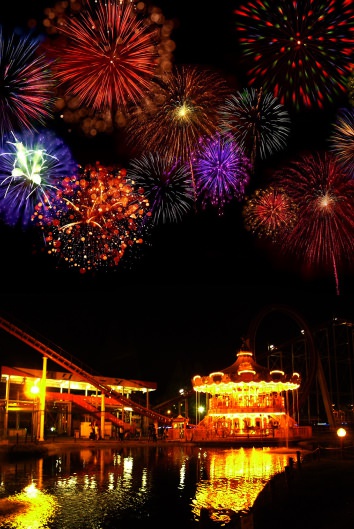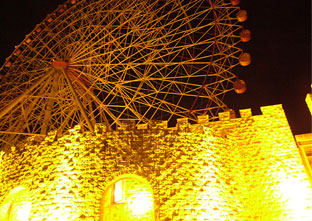 Kazenoshiro Illumination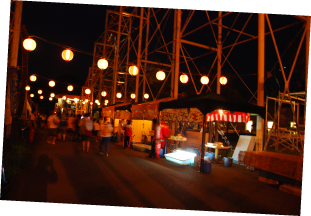 Evening food stalls
Regular Fireworks Show held every spring, summer and fall! In summer, the food stalls are rolled out in the evening.